Ongoing Events & Activities:
Guided Tours
Guided tours are available to groups of 10 or more with prior arrangments. To arrange a guide, please contact the main office at milnergardens@shaw.ca
Tea Service
Daily during our open season:
1:00-4:00 pm
Afternoon Tea is served with assorted baked goods and freshly baked scones, served with jam (made with fruit from the garden) and Devonshire cream. The Camellia Tea Room is located in the drawing room of the historic Milner House. No reservations are required, except for high tea or large groups.
Please note: Garden Admission is required to access the Camellia Tea Room.
Fairy Houses
June 21st through June 24th
10:00am to 4:30pm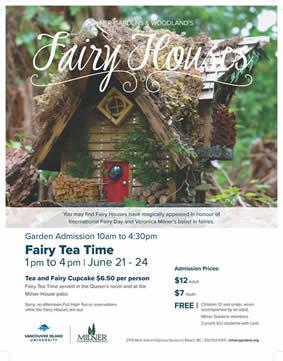 Meander the sun-dappled meadows of Milner Gardens on your self-guided search for areas Fairy Houses may have magically appeared, in honour of International Fairy Day and Veronica Milner's belief in fairies.
See 'Tips to enjoy Fairy Houses' for more event information.
Fall Plant Sale
September 29th & 30th
10:00am to 4:00pm
Add a piece of this Heritage Garden to your own garden.  A large selection of propagated material will be offered for sale. Come early for best selection.
Members only early access September 28th
5:00 to 6:30pm.
Milner Christmas Magic
2018 Dates TBD

5:00pm - 8:30pm - last entry at 8:00pm
The annual family festival of lights & music in the Garden!
Stay tuned for more event information
~ Subscribe to our Facebook Events for updates!
#VIUMilnerGardens
See directions.
Here are tips and suggestions for enjoying Milner Christmas Magic: